Travel Must Haves Of 2022
---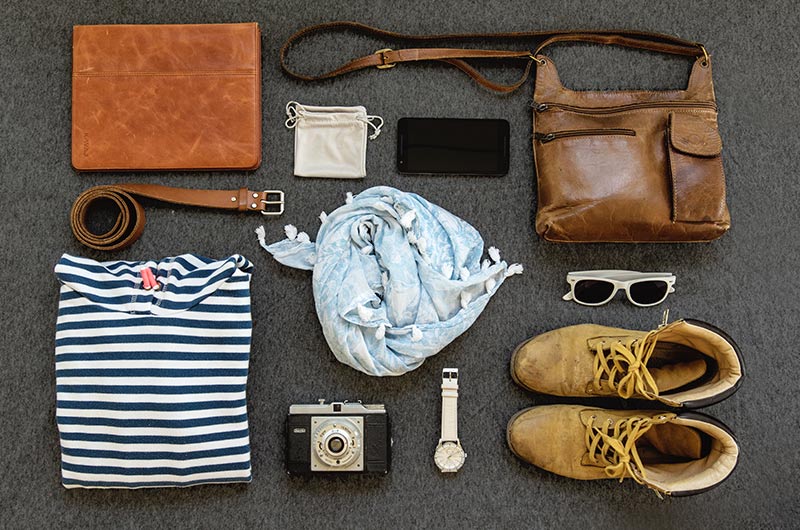 You've done it! You've come up with the perfect trip, but now you're wondering what you need to do to be truly prepared for this once-in-a-lifetime experience. What are the travel must-haves for your trip? With this list, we've got you covered with things that will make your trip effortless!
Travel Insurance Policy
Travel Insurance is a must-have for any trip, especially during these uncertain times. If you are traveling to a foreign country or one with a high risk of terrorism, travel insurance will help put you at ease while on your trip.. Travel insurance is also crucial if you plan on doing activities that may put you at risk, such as skiing, scuba diving, and parasailing.
Portable chargers are essential these days for any trip. They can be used to charge various devices and can even charge multiple devices at once. Portable chargers are also helpful in remote locations where you may not have access to an electrical outlet or charging station. And you'll definitely want one if you're going on a road trip!
Search Portable Chargers HERE
Packing cubes are extremely helpful when filling your suitcase. The most obvious reason you need packing cubes is to keep your luggage organized, but there are a lot of reasons to invest in these handy accessories. Packing cubes can help you keep your clothes organized and make packing easier. They also help keep toiletries tidy and simplify getting ready on the go. Finally, it keeps documents (like passports) in one place. When customs asks you for proof of identity, all you have to do is reach into your bag instead of rummaging around looking for everything individually!
Packing Cubes HERE
A collapsible water bottle is handy to have during traveling because, let's be honest, no one wants to carry a bulky water bottle around, especially when running through an airport. When you are not using it, you can stash it in your bag, freeing your hands for other things like getting through airport security. 
See Collapsible Water Bottles HERE
Hand sanitizer is an excellent tool for keeping you safe, but sometimes it's not enough. Antibacterial wipes are the next step in killing off bacteria, and they're more effective than hand washing alone. Wipes are great for sanitizing surfaces you're not comfortable touching, like plate seats and bathroom doors. 
See Antibacterial Hand Wipe Options HERE
The following list of travel first aid kit items is non-exhaustive but should help you create a kit that works for your needs.
Bandages in various sizes and shapes

Gauze pads and rolls of tape (for wrapping wounds)

Antibacterial soap to clean cuts and scrapes

Antiseptic spray or wipes (for cleaning minor scratches)
In addition to these essentials, pack any other items you think you might need: pain relievers; antihistamines; tweezers; scissors; thermometer; water purifier tablets or filter bottle; sunscreen with SPF 15 or higher; insect repellent with DEET (at least 20 percent DEET); personal medications like asthma inhalers or epi-pens.
Travel First Aid Kits HERE
Travel pillows are essential for any trip, whether staying in a hotel or sleeping on a plane. They come in many different shapes, sizes, and materials, so choose the one that suits your needs. Travel pillows are compact, lightweight, and easy to pack.
See Great Travel Pillow Options HERE
You don't have to be a pro at meditation to understand the benefits of getting some shuteye. A good night's sleep helps you stay on top of your game, whether you're traveling for work or leisure.
We recommend investing in an eye mask to ensure you've got your eyes covered when the light gets too bright. They are available in all sizes and shapes, from satin-lined lace masks (for those looking for something delicate) to silk sleeping masks (for those who like their options more basic). No matter which mask you choose, they all work by blocking out harmful rays that can disturb your slumber while still allowing enough light through so you can see where you're going and keep yourself safe at night.
Sleep Eye Masks HERE
If you can't escape the noise, block it out with earplugs.
If your partner snores, use them to sleep.

Use them on planes, trains, and buses if you're a light sleeper or have trouble focusing on movies.

Use them in hostels to get peace and quiet when other people use their headphones at night (or when they're talking too loudly).

Use them on city streets to screen noise without entering entirely silent mode—just pop one ear plug in!
Ear Plug Options HERE
Noise-canceling headphones are a must-have for anyone who travels. Whether you're on an airplane, train, or bus, having a pair of noise-canceling headphones will allow you to enjoy your music or podcasts without all the ambient noise that comes with traveling. These can also be used at home when you want to watch movies or television shows in peace.
They are available in assorted styles and sizes, so they're helpful while flying and walking around the city where there can be many traffic noises. Plus, when using them during flights, they help block out all those annoying people sitting near you who don't know how to use their phone volume buttons (I mean, seriously). In addition, if you're one of those people who like watching films at home but struggle with other household members being noisy, then these are ideal because they provide an excellent soundproofing experience, so everyone gets what they want!
Great Noise Cancelling Headphone Options HERE
E-readers are the perfect accessory for travelers, and they're only getting better. They let you read books, listen to audiobooks and music, and download podcasts. Whether you prefer physical print or digital files (or both), e-readers allow you to bring along an entire library wherever your travels take you.
Find E-Readers HERE
A lockbox for your valuables is important when traveling. They are easy to take with you because they are lightweight and portable. This is important if you are headed into the wilderness or exploring remote areas where there aren't many people around to help keep an eye on things while you relax during your trip.
The best thing about lockboxes is that they give you peace of mind when storing valuable items so they can be used in any situation where safety is paramount—whether it's camping in the woods or taking a long flight across continents. You will know where everything is stored and what protection it has against theft, weather, or damage from children or yourself!
Portable Lock Box Options HERE
RFID-blocking wallets are a necessity for anyone traveling in 2022. They protect your credit cards and passports from identity theft by preventing the scanning devices used by criminals to steal your personal information. They also keep you safe from credit card fraud and identity theft, two things that are unfortunately all too common these days.
Find Wallet Options HERE
Conclusion
We hope you feel more comfortable going on your next trip now that you know what items to bring with you. Having these items is essential for a stress-free vacation. Every item on this list should help ease your worries when packing, traveling, and trying to enjoy yourself while away from home.