Best Travel Pillows
---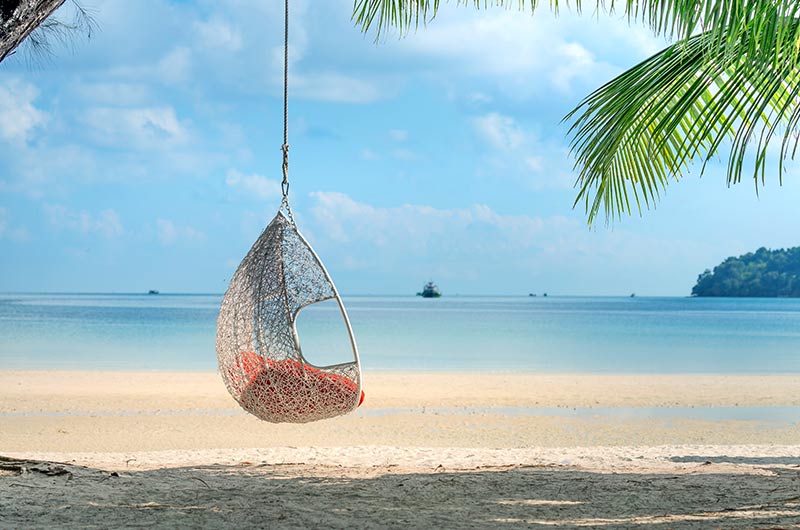 Sure, we may sound like a broken record, but travel pillows are one of the most important parts of any traveler's journey. Like a trusty sidekick that has your back when times get tough, these little guys make things just a bit easier when you're crammed into an economy seat or trying to make it through a long layover. For example, my all-time favorite travel pillow is the Trtl Pillow, which looks more like an awkwardly wrapped scarf than anything else. However, this guy offers unrivaled neck support and can be worn in multiple ways without feeling bulky or annoying. While I love this travel pillow more than most things on this planet (and that's saying something), there are many other fantastic options out there to suit every kind of traveler. So if you're looking for something with memory foam or one that won't take up too much space in your carry-on bag, we've got you covered!
The Trtl Pillow is a travel pillow that wraps around your neck. It can be used in three different ways, making it an excellent option for long flights, car rides, and bus rides. 
What sets the Trtl Pillow apart is that it is very thin and not u-shaped like a traditional travel pillow but is still very highly rated. Its compact construction makes it easy to tuck into your bag or suitcase, unlike some bulky pillows.
Huzi's Infinity Pillow is one of the best travel pillows because it's comfortable, lightweight, and easy to use though its bulk may make it hard to pack. It's also affordable, durable, and made of super soft bamboo fabric. Another big plus is that it is easily machine washable. 
It can be compressed to a small size and stored in your bag without hassle. When you want to use it as a pillow for yourself or your child on an airplane or car ride, simply pull it out of the storage pouch and unfold it into its full shape. The microfibers inside the case quickly re-inflate so that you're left with a pillow with just enough support without being too firm or soft.
If you're looking for a travel pillow that can be used in multiple ways, the Cabeau Evolution Memory Foam Travel Pillow is for you. It has a more traditional u-shape, and its adjustable contour design allows it to be used as a neck pillow or head pillow. A strap on the pillow can attach to the chair and help keep you up straight. It also comes with its own travel bag, which flattens the pillow to about half its size. 
This pillow boasts accolades as the best new travel pillow of 2022. The Travelrest pillow offers full lateral support regardless of your plane seat, including the awful middle seat. This inflatable pillow helps keep you upright and your head from falling forward while sleeping, allowing you to fall asleep quickly and stay asleep through your travels. Once you are finished using your pillow, simply deflate it, roll it up and easily store it in your luggage. There are also velour and memory foam covers available for added comfort. 
The AirComfy Ease Pillow is different from other travel pillows because it has a no-blow inflation where you press the built-in inflation pump for 30-60 seconds to fill the pillow; you can even adjust the support level while wearing it! When finished, you can release the air in no time with the quick release valve. It has an easily removable micro-velvet pillowcase that is super soft and easy to throw in the wash. It also comes with a nice bag to compactly store your pillow when not using. 
Sometimes when you are looking for a travel pillow, you don't want or need all the bells and whistles. All you need is a no-frills pillow, and the Teton Travel Pillow gives you just that. This is pretty much a regular pillow but smaller making it easy to take with you on any trip, and the flannel cover is incredibly soft. Though small, it packs immense comfort. It has a removable pillow case, so you can wash just the case or the pillow if necessary. 
The Muji Well-Fitted Neck Cushion is an excellent choice for anyone who wants a travel pillow that can serve multiple purposes. You can use it as a neck cushion, a car seat cushion, or even just an extra pillow to support your lower back at home. It comes with an adjustable strap with a buckle, so you can choose how much support you need, and it also has a built-in hood to block out light. The material is high quality and durable enough to last through many trips (and years!).
If you're looking for a travel pillow to help keep your back supported, the Therm-a-Rest Lumbar Pillow is the right choice. This pillow can be shaped to support your head, neck, and shoulders while minimizing stiffness and tension in any part of your body. It also works outstanding as a lumbar support cushion in cars or airplanes.
This lumbar pillow has been designed with many different uses in mind—from sleeping on planes to using it as a backrest while reading at night. The pillow has been proven effective in relieving pressure points on your body which helps you feel less stiff after prolonged sitting or standing up straight.
The BCOZZY Neck Pillow is the best travel pillow for long flights. This pillow is made of memory foam, so it's soft and comfortable. It also has an adjustable strap that lets you adjust the pillow's height to match your comfort level. The BCOZZY Neck Pillow comes in various colors, so you can choose one that fits your personal style.
The Ostrich Pillow is a unique travel pillow with a design that allows you to rest your head on it in a way that mimics how an ostrich sleeps. The pillow is designed to be used in various positions, including sitting upright, lying down, and leaning back. It's made from memory foam for comfort, shape retention, and a machine washable cover.
The Ostrich Pillow has been featured on several TV shows and magazines, including Good Morning America, Today Show, and Cosmopolitan magazine, as one of their top picks for buyer's guides on travel pillows.
The Samsonite Magic 2-in-1 Travel Pillow is the perfect travel companion for any journey. It can easily be converted from a traditional u-shaped neck pillow to a square-shaped pillow. The memory foam cushion is thick and soft, with a removable and washable cover made from a velour material. It is very lightweight so it is easy to carry with you.
Our editorial team strives to provide the most accurate and unbiased product recommendations. Our team comprises experts with a deep knowledge of what makes a great travel pillow. We look at many factors, including price, usability, quality, durability, etc. We hope you can find your next travel pillow using this guide; if you decide to purchase one based on our list of the best pillows available today, please use our Amazon links above as they help support our work here at BestVacationsNow. Thank you!