Dublin Ireland
---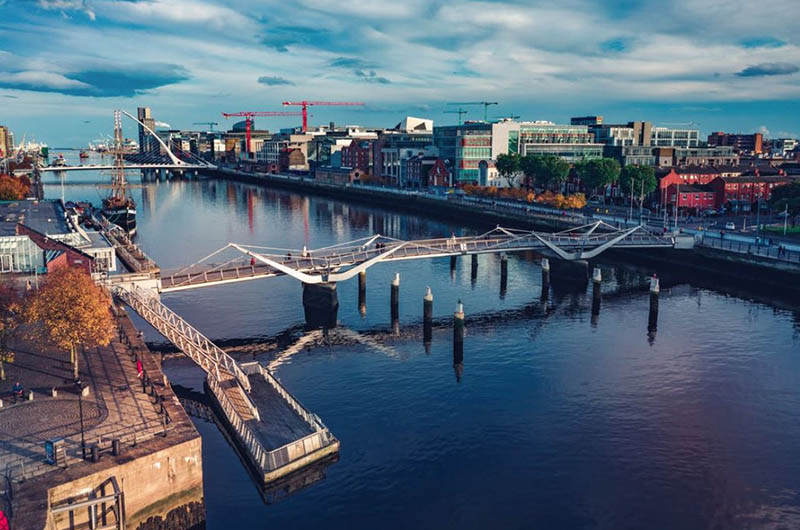 Dublin Castle
Dublin Castle has a long history, being founded as a primary defensive work on the orders of England's King John in 1204. It was initially a Viking fortress, built in a strategic location between two major rivers. This made the Castle an ideal site for Anglo-Norman settlers to build their own settlement and become Ireland's capital.
Dublin Castle has been renovated several times, but its central courtyard still contains original cobblestones from its construction in the early 13th century.
This is where the British administration had its headquarters during Ireland's period as part of Great Britain. Critical political decisions were made here, which affected Irish life and culture until independence in 1922 (and even beyond). During this time, people who were against British rule were often held prisoner within its walls; they included nationalists such as Michael Collins, who would later become a leader during Ireland's War of Independence (1919–1921) against Great Britain.
The River Liffey
The River Liffey goes through the city center and is one of Dublin's main attractions. The river was named after a Celtic goddess, who was said to have been turned into a stream when she died. The River Liffey divides Dublin in two and is crossed by many bridges, including the Ha'penny Bridge, which can be found along the riverwalk between Temple Bar and Dame St.
St Patrick's Cathedral
This Cathedral is Ireland's largest and most prominent medieval Cathedral. It was founded in 1191 and was initially built as a parish church. The first stone of the present building was laid in 1220, but it wasn't completed until 1871 when François Joseph Hansom added the tower.
The Cathedral is an Anglican place of worship in Ireland. It's also known as "Dublin's National Cathedral." Other cathedrals in Ireland include Christ Church Cathedral (Dublin), St Mary's Pro-Cathedral (Killarney), St Colman's Cathedral (Newry), and St Macartan's Cathedral (Monaghan).
St Stephen's Green
St Stephen's Green is a place to rest and enjoy nature in the center of Dublin's bustling downtown. The park attracts over 10 million visitors annually, making it one of the most visited public parks in Europe.
In Victorian times, the park was laid out by architect James Gandon and was intended to be used by all classes of people. Some of the historical buildings in the area are located just across from St Stephen's Green, including the National Museum, Natural History Museum, and National Gallery. In fact, this green space is dedicated 'to the memory of those Irishmen who died during Easter Week 1916.'
The National Botanic Gardens
These Gardens are one of Dublin's gems. The gardens were established in 1816, and they now cover some 40 hectares of land. The gardens boast an extensive collection of plants, including over 8,000 species from all over the world.
The gardens also host a few events throughout the year, such as concerts, exhibitions, festivals, and workshops. There is even a children's garden area where kids can learn about nature through play!
If the goal is to be close to nature, but you don't have time for a long hike, then the National Botanic Gardens are perfect for you! With abundant flowers blooming throughout all seasons, there'll always be something new to see here in these beautiful green spaces, so why not visit today?
Phoenix Park
Located in the heart of Dublin, Phoenix Park is a large public park that features everything from gardens to museums. Phoenix Park is home to many attractions, including Dublin Zoo and Ireland's President. Dublin Zoo is one of the oldest globally, opening in 1831, and has over 400 animals. You could honestly spend all day here, but we recommend at least 3 or 4 hours.
Clontarf Castle 
The Castle is a popular tourist attraction in Dublin, featuring historic interest and modern amenities. The Castle's location on the North Wall is close to several other famous sites, including the Guinness Storehouse and James Joyce Museum. Located at Clontarf, it was built in 1316 by Robert de Rodes as part of his overall development plan for Dublin city. The Castle consists of a keep and outer ward plus various outbuildings, including a gatehouse and barbican (a defensive structure). You can get to the main entrance through an archway that leads into what was once an inner courtyard but now forms part of a parking area for visitors arriving by car or bus.
The National Museum of Ireland
A beautiful building houses the museum with fantastic architecture and sculptures. It contains many important items from Ireland's ancient and modern culture and history. Visitors can see many things from Ireland's past, such as:
The Book of Kells - an illuminated manuscript dating to around 800 AD

The Ardagh Chalice - an ornate silver chalice made by Celtic artists around 600 AD

The Lewis Chessmen - tiny stone chess pieces carved between 1150 and 1200 AD
Visitors can also learn about Ireland's history from 100,000 BC to the present through exhibits on archaeology, anthropology (the study of humans), coins/currency, arms/weapons, costumes/fashion, and decorative arts/materials. There are over 40 galleries throughout the museum, so there is something for everyone! Admission is free!
The Irish National Gallery
This Gallery features the country's best-known artists, and the Jameson Distillery is an ideal stop for whiskey lovers. The museum houses work by Jack B Yeats, Sean Keating, Walter Osborne, Nathaniel Hone, John Lavery, and William Orpen.
The Jameson Distillery tour includes a guided tour of the distillery itself as well as a tasting session in their barreled warehouse. You'll also get to see how their whiskey has evolved over time in Ireland (and around the world).
Trinity College
Trinity College was founded by Queen Elizabeth I in 1592, just as Dublin was becoming an urban center. The college was established as a Protestant university with the intention of spreading the principles of the Reformation. The university also has an impressive collection of rare books and manuscripts, including "The Book of Kells" (one of Ireland's most famous treasures), which dates back to 800 AD or earlier.