Key West Vacations
---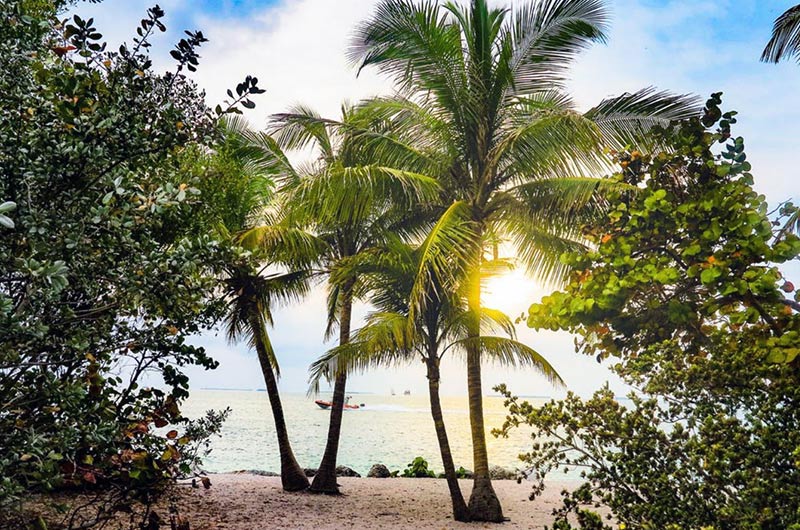 The southernmost United States City, Key West, is located closer to Cuba than Miami and has a unique history, climate, and natural beauty. Being one of the warmest and sunniest places in the US, with an average temperature between 75 and 80 degrees, there is no wrong time to visit this beautiful island. The weather is nearly always perfect, with only passing showers that rarely last all day.
If you have never been to Key West, get excited! There is something here for everyone. You can book a dolphin encounter, go diving or snorkeling, kayaking in the backcountry, or rent a boat at Key West marina, which is just the start!
Experience world-class diving in the deep blue waters around the island of Key West. There are multiple sunken ships to explore as well as beautiful natural and artificial reefs including The Vandenberg which is the second-largest ship ever to be purposefully sunken. A favorite among scuba divers and snorkelers is Sand Key Lighthouse Reef, a 10-mile reef system with different depths of coral formations to explore.
Both deep-sea and shallow fishing are popular sports in Key West. The Atlantic Ocean and the Gulf of Mexico offer a large variety of fish to be caught. Deep-sea fishing can lead to serious action while you reel in a Marlin, Sailfish, Dolphin, Tuna, Kingfish, or Wahoo. If you're looking to fish the shallows, you can use your stealth for fishing the fabled "Grey Ghost" bonefish and elusive Permit. You also have the option of fishing in the backcountry, which offers calm, remote, and protected waters where you can find Redfish, Snook, Sea Trout, and Pompano. Key West offers fishing for every type of adventurer and sportsman!
Take a sightseeing flight and see some of the less accessible areas around Key West, like Dry Tortugas National Park, which lies in the Blue-Green water of the Gulf of Mexico. Fly over the Marquesas Islands, see the "Quicksands," where you may see a giant sea turtle, and see a sunken World War ll ship.
Visit the Key West Botanical Gardens and Tropical Forest, which was founded in 1936. The garden showcases plant species native to the Florida Keys, Cuba, and the Caribbean to help bring awareness to threatened and endangered species in the area. There are 15 acres of native garden and forest to explore.
Walk among hundreds of colorful birds and beautiful butterflies at the Key West Butterfly and Nature Conservatory. Walk through the collection of flowering plants, cascading waterfalls, tropical trees, and colorful birds while you view 50 to 60 species of butterflies from all over the world. You can explore the monarch butterfly's anatomy, life cycle, physiology, and feeding and migratory patterns in the Learning Center.
Take a selfie at the Southernmost Point of the Continental United States, where you'll find an enormous brightly colored buoy marking this landmark. The city of Key West erected this famous buoy in 1983, and it has endured many hurricanes and is a popular location for photographers and tourists.
Key West boasts many beautiful beaches perfect for swimming, sunbathing, and snorkeling.
-Fort Zachary Taylor is an 87-acre park that is the home of a pre-Civil War Fort with incredible sunset views.
-South Beach is a favorite among locals with a lovely sandy beach with shallow waters and a concrete pier.
-Higgs Beach has a long wooden pier with a wide sandy beach and restroom facilities, a playground, a full-service restaurant, and even water rentals.
-Smathers Beach is a man-made beach stretching about a half-mile. Here you can jet ski, parasail, and windsurf. There are also restrooms, chair rentals, bike paths, concession stand, and picnic tables available. 
-Dog beach is a favorite among our four-legged friends though the terrain can be rocky and slippery. There are, however, no restrooms or facilities.
Rest Beach is the home of the White Street Pier, which boasts excellent fishing, soft sand, and natural vegetation. You can catch a Yoga class her nightly.
Don't miss your chance at a dolphin encounter while visiting Key West! You can take a boat excursion and see dolphins frolicking in their natural habitat, where you can then snorkel for a chance to swim with these majestic creatures!
A family-friendly excursion is the Key West Aquarium. You can see sharks, feed turtles, hold a starfish at the Touch Tank, and see various marine life, including grouper, eels, barracudas, tropical fish, parrotfish, etc. Your family will learn about the habitats of local sea life from your tour guide and visit the 50,000-gallon tank at the Atlantic Shores exhibit.
You don't want to miss visiting the Key West Shipwreck Treasure Museum, which is part museum and theme park. Here you can discover genuine artifacts recovered from the nearly 400 authentic shipwrecks around Key West and the Florida Keys. Climb the 65-foot-tall lookout and catch the island's breathtaking views and surrounding waters.