Kauai Vacation
---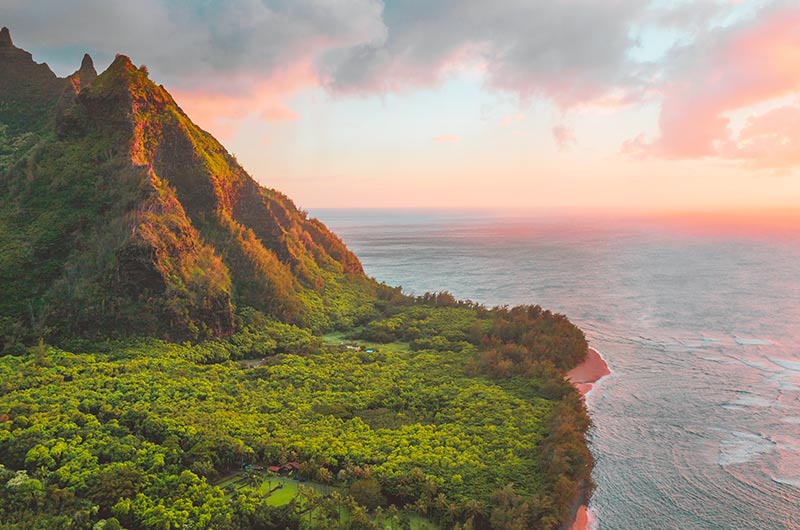 Introduction
Kauai, known also as the Garden Island, is arguably one of Hawaii's most beautiful islands. This island is a must-see when visiting the state, with tropical rainforest covering much of the island, countless waterfalls, the breathtaking Na Pali Coast and Waimea Canyon, and beautiful beaches. 
Na Pali Coast and whale watching
The Na Pali Coast is a rugged and remote coastline on the north shore of Kauai, Hawaii. It is a popular destination for hiking, kayaking, and whale watching. Whale watching season in Kauai runs from November through April. The best time to whale watch is in winter and spring when humpback whales migrate to the warm waters of Hawaii.
Waimea Canyon
The Waimea Canyon is one of Kauai's most stunning landscapes. It is a massive gorge formed by the erosion of streams and rivers over thousands of years, with some areas being more than 3,000 feet deep and length of over 14 miles. In addition to its incredible size, there are many interesting features inside this natural wonderland. Though not as large as the Grand Canyon, it is still breathtaking and worth visiting. 
Lihue
Lihue is the main town on Kauai. It's the island's commercial center, it's the island's main port, it has the main airport and hospital, and it's also where you can find most of Kauai's shopping. Lihue is home to some of Kauai's best beaches and many restaurants, bars, and shops.
Hanalei Bay
Hanalei Bay has an amazing down-to-earth vibe about it and is an excellent place for swimming, snorkeling, and kayaking. You can get on a boat tour or rent a kayak and explore the bay at your own pace. There are many fabulous restaurants, bars, and shops in Hanalei. This is an excellent place to stay for a few days if you have time before heading off to one of Kauai's other attractions.
Doors Off Helicopter Tour
This short helicopter tour takes you above the ruggedly beautiful terrain of Kauai, offering spectacular views of its valleys and waterfalls. While you're up there, you'll enjoy the island's majesty from a vantage point unlike any other. You will see some of Kauai's most famous landmarks, waterfalls, and possibly even a wild pig! It's a great way to experience this island without having to worry about anything other than enjoying yourself!
Koloa Zipline
The Koloa Zipline is a one-mile-long zipline that runs from the Koloiki Ridge to Kealia Beach Park on the south side of Kauai. It's open to the public and operates year-round, with hours extending from 8 am to 6 pm. The experience lasts about an hour and includes a safety briefing, departure instructions, and equipment check before heading out on your adventure. The tour itself takes you over canyons and valleys while giving you views of tropical landscapes along the way. It's truly a fantastic experience!
Kalalau Trail
The Kalalau Trail is a 22-mile-long hike along the Na Pali Coast in Kauai. The trail is not for the feeble of heart: it's long, strenuous, and can be dangerous if you're not prepared. If you don't like heights or snakes, this hike isn't for you.
The first part of the hike should give you a taste of what lies ahead; it's surrounded by lush greenery and includes steep climbs and narrow trails that require some scrambling. Once you get past this section (and after spending some time on your hands and knees), things start to open up into gorgeous vistas of ocean waves crashing against cliffs hundreds of feet below. This section will take about 3 hours to complete, but as with all things on Kauai—it's worth taking your time here because there are so many amazing views!
You'll also pass through various caves along this portion of Kalalau Trail before reaching Hanakoa Valley, where there are plenty more breathtaking panoramas waiting for you!
Anini Beach
Anini Beach is an excellent beach to swim, snorkel, hike, and picnic. The beach is located near the town of Hanalei on Kauai's North Shore. It has white sand with plenty of shade trees when you need it. A reef protects the calm, clear water, and it is very likely to catch a view of a sea turtle while here. There are also restrooms and showers if you want to change into dry clothes after swimming or hiking the nearby jungle trail.
The Anini Point Trail is one of our favorite hikes on Kauai because it lets you explore an undeveloped part of the island while giving an amazing view of the ocean and mountains at every turn. The trailhead starts just south of Anini Beach Park along a paved road that leads through some very scenic neighborhoods before arriving at an intersection where you can either go left or right (left goes towards Hanalei Bay). Go left here so that you can start walking along the shoreline without having to climb over any fences!
Follow signs for "Anini Point" until they lead into a thick forest where your only company will be birdsong from above; this section feels like stepping back in time thanks to its old-growth trees that have stood untouched since dinosaurs roamed Earth millions of years ago."
Wailua Falls
Wailua Falls is a waterfall on the Wailua River on the Hawaiian island of Kauai. The falls are located in Wailua River State Park, located on the island's east side.
The falls are fed by groundwater springs that run through lava rock and emerge at an elevation of about 240 feet (73 m) above sea level. The falls drop about 150 feet (46 m) into a pool, where they disappear below ground again before emerging further downstream.
The park has been open since 1982 and features picnicking areas, barbecue pits, restrooms, and hiking trails that lead to other sights within the park, including Koki'o Pele (a small native tree) and Hanakapiai Falls.
Koloa Rum Company
Koloa Rum Company is a distillery that makes rum from sugar cane. It's located in Koloa, Kauai, and has a tasting room, a gift shop, and restaurant. You can also make reservations for their "Rum Tasting Experience" tour, which will give you an overview of the history of rum-making on Kauai. The tour includes samples of their different rums as well as other products made at the distillery, such as vodka or pina Coladas made with their own dark rum!
Sleeping Giant Trail
If you're looking for a challenge, the Sleeping Giant Trail is just the thing. It's only 6 miles long, but it climbs over 2,000 feet—and it has an elevation gain of nearly 1,200 feet per mile!
The trail begins at an elevation of 400 feet and ends at around 2,000 feet above sea level. It follows the ridgeline of Kukuiula Valley and offers views of both Kauai's North Shore to the west and Mount Waialeale on Maui to the east.
The trail can be steep at times; there are some areas where hikers need to use their hands and legs to navigate through rocks or branches blocking their path. However, most hikers shouldn't find this daunting as long as they're in decent shape and staying hydrated throughout their hike. Hiking poles are also highly recommended if you plan on doing much climbing (and we recommend using them regardless).
Queens Bath
This small beach is a popular tourist attraction, but it's worth the trip. It's a great place to swim and relax, but the views make it stand out. You'll see rugged cliffs surrounding your little spot in paradise and clear blue water stretching out toward Diamond Head on Oahu across the channel.
You can find Queens Bath off Waialea Road near Kilauea Point National Wildlife Refuge. The best time to take photos is just before sunset when you'll have incredible daytime colors in front of you and a fantastic view of sunsets over the ocean behind you!
Secret Beach
One of Kauai's must-see beaches is Secret Beach, and it's easy to see why. This two-mile stretch of sand is stunningly beautiful—the turquoise water stretches out into the horizon and merges with a soft blue sky, while white sand invites you to lay down your towel and relax.
As if that weren't enough, Secret Beach also has some excellent snorkeling opportunities right offshore. If you don't have your own gear or want to rent it for the day, stop by Kauai Backcountry Adventures (they have an excellent selection) before heading over here; you won't regret it!
If surfing is more your thing than swimming or snorkeling (and why not?), then Secret Beach is even better than it appears at first glance: waves up to 20 feet tall can crash onto this stretch of sand during high tide! The best time for surfing at Secret Beach is October through April; during those months, expect unbelievable conditions that will keep you coming back again and again!
Kilauea Point Lighthouse
Kilauea Point Lighthouse, located on the north shore of Kauai, is a lighthouse that was built in 1883 and is still operational today.

The lighthouse is located at the end of a small peninsula where a visitor center offers information about the area and its history. Tours are available to the public Monday through Friday from 10:00 am until 4:30 pm, with self-guided tours available at other times during your stay in Kauai.

Even if you do not want to go inside this historic site, it's worth stopping by just to check out its impressive architecture and snap some photos from different angles! The grounds are also home to about 100 acres of land featuring picnic areas and hiking trails for those who want more than just an Instagrammable photo-op nearby.

Whale watching season runs from December through April (roughly), so if you're visiting during these months, consider taking advantage of this amazing opportunity!
Shave Ice
Shave ice is a local treat in Hawaii that has become popular worldwide. It is shaved ice with syrup and/or condensed milk. You can get it in many flavors, including:
Some places will offer you a choice of syrups, while others just give you one. The most common is the rainbow shave ice which includes all three flavors. People usually order this as their first taste of shave ice on Kauai because it's a nice mix of sweet, sour, and salty flavors at once!
You can eat your shave ice without utensils, but most people use them to keep their hands clean from drips. The best way to eat it is by biting off large chunks at once—this way, you'll get more flavor in each bite! If possible, try getting some condensed milk on top so that when the ice melts, you'll still have the full experience!
Kauai is a special place.
Kauai is a special place. It's not just the tropical paradise you may have heard about, but it has a rich history, beautiful scenery, and diverse ecosystems. Kauai has many activities to offer, and there are restaurants with delicious food from every type of cuisine imaginable.
We highly recommend visiting Kauai if you have the chance. There are so many incredible things to see and do on this beautiful island, and visitors must make sure they do them while they are here.