Grand Bahama Islands
---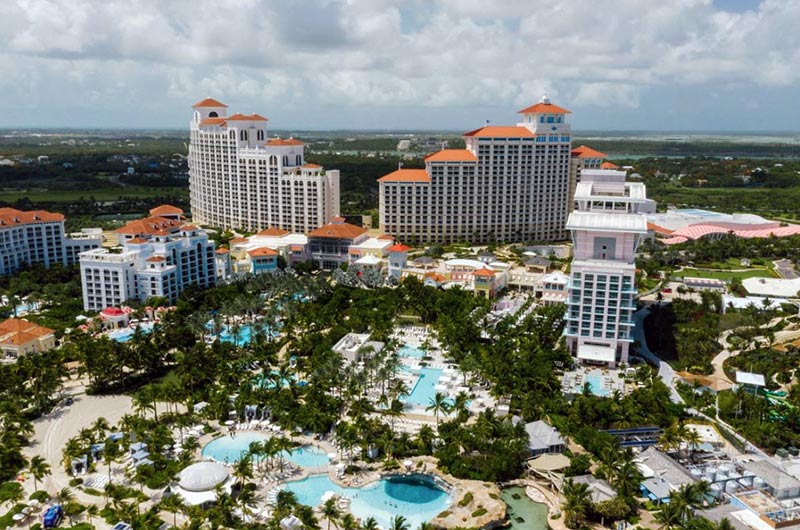 Relaxation
Relaxation is a big part of the Bahamas, and Grand Bahama Island is no exception. This island is the most northern of the island chain, and visitors can enjoy beautiful white sand beaches and warm ocean water during their stay. The island boasts many resorts, golf courses, and beaches, perfect places to relax with friends or family members.
If relaxation is the reason for your vacation, you may want to look into an all-inclusive resort so that you can sit back, take a deep breath and let the staff take care of everything. Here are some of the resorts that we recommend for your stay.
Viva Wyndham Fortuna Beach: A tremendous family-friendly resort featuring rooms with a flat-screen TV, air conditioning, and a refrigerator, as well as free internet access.

Lighthouse Point at Grand Lucayan Resort: Another great family-friendly resort close to many popular landmarks like Count Basie Square and Coopers Castle.

Pelican Bay Hotel: Boasting some of the best customer service in the Bahamas with beautiful and colorful Bahamian architecture, this hotel is sure to attend to your every need during your stay.

Dolphin Cove: This is a condo unit adult's only hotel that features award-winning chefs who will ensure you are well fed during your vacation.
Adventure
Take a tour of the island: There are plenty of tours available, and they're usually reasonably priced. You can visit the "Junkanoo Beach" in Freeport (where you can buy coconuts) or go to one of the many beaches on Great Exuma Island.

Snorkeling or scuba diving: Grand Bahama Island's waters are home to an array of tropical sea life like coral reefs, blue holes, and shipwrecks—which means snorkeling opportunities abound! If you're not quite ready for deep-sea diving yet, there are many shallow-water sites that beginners can explore.

Collect shells: Some people collect shells because they like them; others collect them because they want to make jewelry and crafts out of them later on down the road; still others collect shells just because they think it looks cool (I fall into this last category). Whatever your reason for collecting seashells off Grand Bahama Island's shores, there's no denying that it's an enjoyable hobby!

Swim with Pigs on a tropical island. While this may sound like an unusual experience, it is sure to be one that you won't forget. Schedule a half-day tour where you can spend time with the island's resident wild pigs and have to option to feed them and visit their baby piglets!
Excitement
When you visit Grand Bahama Island, there will be many exciting things to do. You can go snorkeling or scuba diving, take a tour of the island's many beautiful beaches and resorts, or relax at one of its many spas.
There are also several different types of tours available for visitors to Grand Bahama Island, including:
Snorkeling tours

Scuba diving tours

Jeep tours

Bicycle tours

Swim with pigs on a Tropical Island

Visit the Garden of the Groves

Swim with dolphins

Visit the location where Pirates of the Caribbean 2 and 3 were filmed.
Grand Bahamas is the perfect vacation spot for anyone looking to have a little adventure or just relax on the beach.
Grand Bahama Island is a short flight from Florida, meaning you can get there in no time. It's also the perfect vacation spot for those who love to have a little adventure or just relax on the beach.
Grand Bahama Island is close to the US, making it easy and affordable for anyone looking to spend some time away from home. This makes Grand Bahama Island an ideal place to relax while also having plenty of attractions nearby if you want to explore during your stay.
The beaches on Grand Bahama Island are beautiful places where you can sunbathe and swim in clear blue waters. You may also enjoy other activities such as kayaking and jet skiing along these beaches if that sounds more fun than laying out in the sand!